BugOut Wiki
Welcome to the Official BugOut Wiki
Welcome to the Official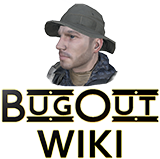 The official wiki guide for BugOut, written and maintained by the players.
Please feel free to contribute by creating new articles or expanding on existing ones.
About BugOut
In BugOut, it is the year 2019. The world is bracing itself for terrible things to come: climate change, asteroids, civil unrest, nuclear war... Wary of what the future holds, you decide to head off into the mountains to use your survival skills and prepare for whatever disaster events the world has coming.